Vehicle Routing and Planning System (Route)
Route is an easy to use vehicle routing and planning software specialized in arranging delivery and service appointments, that includes route optimization from third-party Map API, each vehicle delivery schedule to minimise distance travelled or hours worked while fulfilling customer orders. The algorithms take into account of constraints such as total distance travelled, time window, service time and vehicle capacity.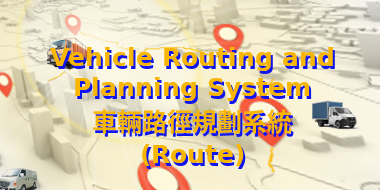 Route101 is suitable for companies with an own fleet or mobile workforce, specialized in products and services for which customers need to be available on-site; our solutions help to decrease costs, improve service, increase productivity, and reduce the environmental impact of your fleet.
Let Route101 handles these complexities.
Key Features
handle up to 100 locations per plan
customer has goods receive time window
dispatcher has service time
use third-party map API to get the route time or distance
optimize the time or distance
support multiple vehicles and depots
Applicable To You
own fleet of carriers or mobile workforce
Fee
new customer has 30 minutes free
maximum 100 locations (includes depots) per run
every geocoding information query per 30 seconds
if no paid third-party Map API service used, a straight-line distance between two locations calculated.
if paid third-party Map API service used, that will return a actual routes in kilometer
HK$500 per 50 minutes *
for customized routing and planning solutions, please contact us
Remark: The above suggested prices do not include the costs of using third-party Map API service, user has to pay separately to the third-party Map API service; in addition, routing runs are subject to change without prior notice. In case of dispute, we reserve the right to make final decision.
System requirement
All our desktop systems are required Java to run, please download a copy of Java Runtime Engine here and install it in your computer.
With Java installed, you can download and install all our desktop systems.
Download desktop system
Click here to download the Route desktop application for installation ... register ... confirm email ... start to use