Clinic Management System (CMS)
CMS is a sophisticated system solution in Hong Kong that helps to manage the daily activities of clinic; even a group of clinics. CMS has consistent and easy-to-use graphical user interface that makes patient appointment, doctor consultation, prescription, drug inventory monitoring easy. CMS prints the prescription labels to label-printer and laser printer. In addition to running in local area network, CMS is Internet ready that allows CMS clients connected together over Internet. CMS has solo practice version , group practice version, and monthly subscription version. Ours target users are doctor, dentist, physician, physiotherapist, psychologist and physical trainer.
(* Some of the features and modules are only available to the Group Practice Version)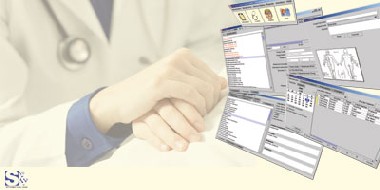 Key Features
Patient record managemenet
Appointment and diary management
Consultation management
Charge item maintenance
Diagnosis maintenance
Treatment maintenance
Findings maintenance
Patient complaints maintenance
Body condition parameter and parameter class maintenance
Vaccination and vaccination class maintenance
Drug and drug formula management
Drug class maintenance
Drug standard instructions maintenance
Drug direction maintenance
Drug warning maintenance
Drug format maintenance
Drug unit maintenance
Drug usage maintenance
Drug supplier maintenance
Patient drug allergy management
Address helper
Standard letter maintenance with Libreoffice support
Payment card maintenance
Questionnaire management
Laboratory test maintenance, data entry and print laboratory items on the receipt
Diagnosis and prescription statistics analyzer
Location maintenance
Staff and roster maintenance
Service and request, and service maintenance
Simple drug inventory maintenance, inventory on-hand report
Cash register report, income report and income analysis report
Prescribed drug report, dangerous drugs registry and expiry drugs report
Patient list
Staff-security assignment
Photo viewer with drawing function
Internet ready, built-in web server, works behind firewall and support SSL
Treatment Package Maintenance
Patient Treatment Package Management
Patient Record Managemenet
patient record management includes patient personal information, drug allergy, consultation and prescription history
patient drug allergy can be set based on individual drug and drug class
unlimited patient condition parameters that can be groupped into unlimited parameter classess
simplified but enhanced patient search capability
check duplicate before save the new patient to avoid duplicating patient record
patient relationship management
archive inactive patient information
Drug Information Management
drug management includes the drug information, format, unit, strength, usage, dosage, standard instruction, direction and warning messages, multiple suppliers linkage per drug; the standard instruction can be segmented into three patient age groups
drug formula allows drugs presented in the mixture while it can be changed during the prescription for each consultation
dosage maintenance helps to develop standard instructions for different prescription requirement
Appointment Management
appointment management allows the consultation booking, patient queuing with dynamic and automatic time updating; the doctor availability can be checked against the roster if necessary during the booking; dairy format helps to show the appointment clearly
Consultation
charge item maintenance helps to customize the frequent used chargeable items in the consultation module; the prescription charges can be linked to the consultation and the sum is calculated automatically
Corporate Account Management
manage corporate account and group the patients to the related corporation
support monthly statement generation and printing
Internet
built-in Internet connection facilities that helps to deploy the system to the Internet environment
support multi-users/doctors and multiple locations
whois client lets the administrator to view the IP address information of the connected user
built-in Web Server that supports paitent self-service appointment
domain name watcher helps to show the discrepancy of domain name
Analysis Tools
diagnosis statistics analyzer reveals the source of income, the patient and diagnosis distribution
Address Input Helper
address helper has more than 20,000 buildings, estates, streets and roads information stored that helps to reduce the address input time and error
Laborartory Items Maintenance
laboratory items can be listed on the receipt
Image Viewing and Editing
support images (JPEG and PNG) in the consultation, so that x-ray images, photos, scanned can be stored; drawing function is provided to draw on the images without actually painting on it; enhanced photo browsing facilities in patient consultation history
support DICOM image format conversion during image import
Drug Label Printing and Management Reports
print English and Chinese prescription label to thermal label printer and laser printer
print standardized sick leave certificate, attendance certificate, receipt, prescription list and standard letter; standard letter content can be modified
prescribed drug report, dangerous drugs registry and expiry drugs report
Questionnaire Management
allow user to enter the diagnosis questionnaire into system that can calculate single consolidated score
scores can be plotted across the time scale
Security Management
CMS Server works behind the firewall
optional SSL module
individual user and functional-level security controls; supervisor and subordinate relationship can be setup, so that the supervisor can access and modify the subordinates' consultation data
data changes are logged for security purpose and later reference
Other Features
service station helps CMS clients to signal each others especially the clients widely disperse
simple drug inventory management and inventory on-hand report
supports the usage of Hospital Authority's ehealth voucher in terms of storing and printing the voucher payment; and the patient related data
LibreOffice support
TopCode support
e-mail alert
Cam snapshot support
Online Trial Login Name and Password
Group Practice Version

login name

password

Doctor 1

guest

trial

Doctor 2

doctor2

Senior Doctor

Both doctor1 and doctor2 are subordinate of Senior doctor who can access and ammend theirs consultation records.

sdoctor

Nurse 1

Limited access rights, but up to you to define these access rights.

nurse1

Nurse 2

Limited access rights, but up to you to define these access rights.

nurse2

Solo Practice Version

login name

password

Doctor

solo

trial

Nurse

Limited access rights, but up to you to define these access rights.

sn
System requirement
All our desktop systems are required Java to run, please download a copy of Java Runtime Engine here and install it in your computer.
With Java installed, you can download and install all our desktop systems.
Download
Click here to download the CMS desktop application for installation.